MedAI Clinches Grand Prize in Innovation Challenge with Their AI-Based Content Generation Platform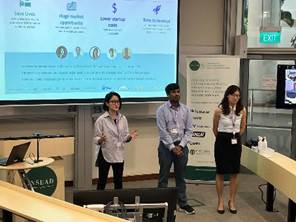 We're thrilled to share the exciting news from the recently concluded innovation challenge. The grand prize, a staggering €35,000 seed funding, has been awarded to an exceptional team, MedAI. But that's not all – their victory bag also includes a comprehensive range of opportunities and resources designed to catalyze their growth and scale their solution globally.
MedAI, a team of innovative entrepreneurs from the GEMBA'24A group, comprising Gina Jung, Stuart Gregory, Christelle Tan, Bhargav Sreepathi, and Ketan Saraf, has developed an impressive AI-based content generation and review platform. The platform's objective is to expedite the go-to-market process for pharmaceutical drugs – a task it achieves by shortening the timeline by an astounding 80%.
Leveraging the power of Large Language Models (LLMs), MedAI's platform is capable of analyzing vast volumes of medical journals, effectively summarizing results, citing necessary sources, and crafting original creative copy. This innovative application of AI technology has the potential to revolutionize the pharmaceutical industry by significantly reducing the time it takes for vital drugs to reach the patients who need them most.
Along with the significant cash prize, MedAI will receive 30 days of development support from MOHARA, USD10,000 investment from Loyal.vc, USD5,000 in AWS credits, and a generous 90% off Freshworks credit across all products. This package not only provides the capital to grow but also the tools to develop, refine, and scale their solution.
Moreover, they've secured an automatic berth in the summer NAA UK entrepreneurs group business angel event and the Angel Club @ IAA Germany pitch event. These exclusive platforms will offer them opportunities to showcase their groundbreaking solution, network with industry leaders, and secure further investment.
Mentored by industry veterans Veronica Chew and Krystian Fikert, the team is positioned to make a significant impact in the field of medical content generation, contributing to faster and more efficient delivery of pharmaceutical breakthroughs.
Congratulations to MedAI for their triumph. We look forward to their future contributions to the pharmaceutical industry and beyond. Stay tuned for more updates on their journey.